Winter School for professionals and researchers 2021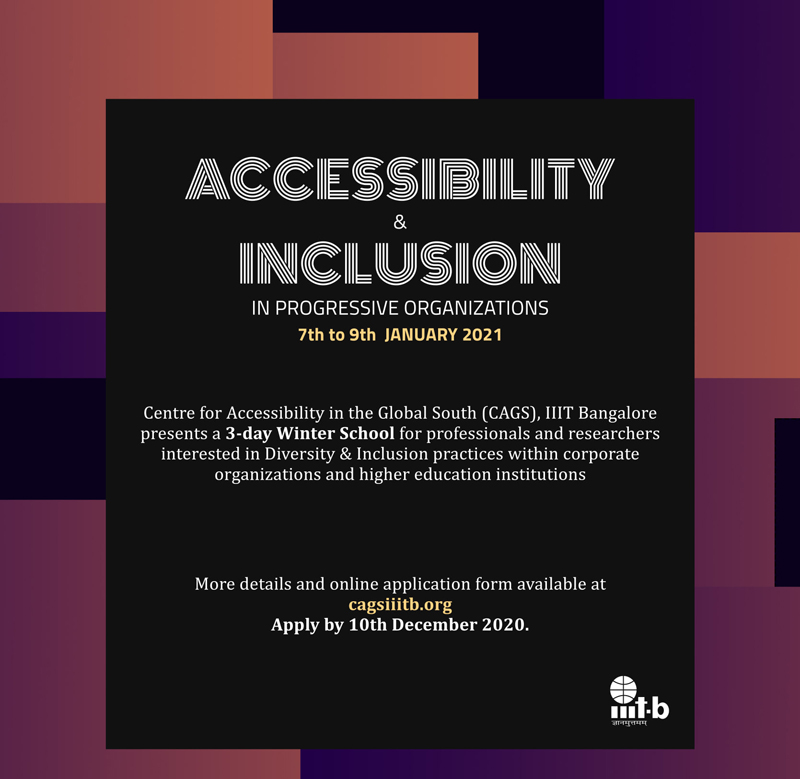 The Centre for Accessibility in the Global South (CAGS) is happy to announce, " Accessibility and Inclusion in Progressive Organizations", a three-day Winter School to be held online from 7th to 9th January 2021. More details about the Winter School are available on the CAGS website, http://cagsiiitb.org/ .
The Winter School will provide an introduction to critical and useful frameworks for recognizing how persons with disabilities (PWDs) have experienced disadvantages and exclusion because of personal and societal responses to impairment, and how accessibility professionals have re-conceptualized disability from a more empowering perspective to an element of celebrating human diversity and a source of improving organizational work spaces.
The Winter School will be of relevance to professionals concerned with diversity and inclusion (D&I) within corporate organizations and higher educational institutions as well as researchers from the academia and industry interested in accessibility and assistive technologies. On successful participation in all the activities of the Winter School, a course completion certificate will be provided by IIIT Bangalore.
__________________________________________________________________________________________________________________________________________________________________
Winter School 2020
Date: December 12-14
Online and On The Line: Democracy in the Age of Machine Intelligence A 3-day Winter School organized by the Centre for IT and Public Policy (CITAPP), International Institute of Information Technology Bangalore (IIITB)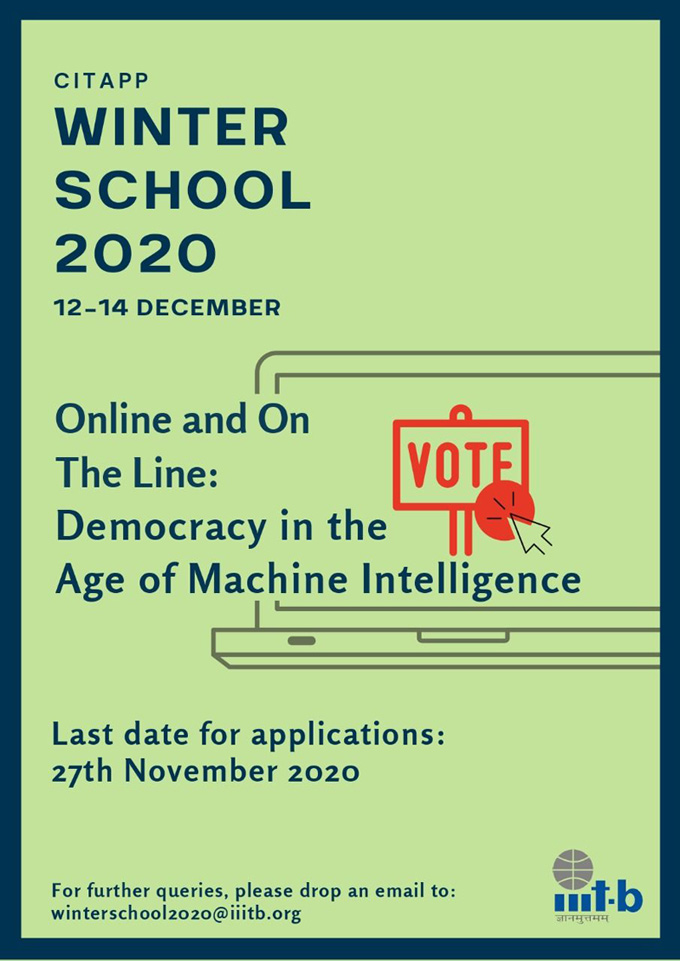 Concept
A democratic society is defined by its commitment to the ideals of liberty, equality, representation and justice. The commitment to these values is strengthened by an active citizenry and a critical media that hold the powerful accountable. In an increasingly digital world, how have these democratic values been shaped by advanced technologies that permeate our individual and collective lives? How are ideals of equality, justice, liberty and participation valued, undermined, protected, subverted, defended and strengthened?
In recent years, as intelligent machines are gradually taking over many decision-making functions in both public and private sphere, these questions around democracy and technology become even more pertinent. Be it targeted advertising, personalized recommendations, credit scoring, predictive policing or facial recognition, AI-based systems have come to shape our news, views, opinions and choices. Concerns of bias, exclusion, surveillance, polarization, and epistemic bubbles pose serious challenges for the core democratic principles of liberty, fraternity and equality in our societies.
Theme for 2020
This year's Winter School 'Online and On The Line: Democracy in the Age of Machine Intelligence', will address some of these concerns by drawing on socio-technical, legal and cultural perspectives to unpack how automated intelligent systems are conceived, designed, built and used in various contexts that shape our democratic values. The winter school is aimed at developers and product designers building AI-based systems, students, researchers and professionals from engineering, law, public policy and social sciences interested in examining the implications of advanced digital technologies on the public sphere and civic participation.
Click here for more information
___________________________________________________________________________________________________________________________________________________________________